NFC21 at the Print & Digital Convention 2022
Mülheim, 16.05.2022
---
NFC21 GmbH (NFC21), which specialises in NFC-based solutions, will be participating for the first time as an exhibitor at PRINT & DIGITAL CONVENTION on 22 and 23 June 2022 in Düsseldorf. The congress fair sees itself as an industry meeting place, business platform and content hub for media producers and decision-makers from industry, trade, marketing agencies and IT. NFC21 wants to show what added value NFC can offer as a media bridge between print and digita
---
The combination of print and NFC offers many advantages and sets a new standard for the printing industry: NFC technology enables companies and products to be made more digital, resource-saving and therefore also more sustainable and attractive in different ways - for example at trade fairs, inventories or advertising and marketing measures. Because with NFC, a lot of information can be retrieved quickly and easily via scan and the technology can thus be used in many company areas.

NFC-based solutions from a single source as well as the largest range of NFC products in Europe in the NFC tag shop - this holistic corporate approach makes NFC21 one of the leading providers of NFC products and software solutions. Its customers come from a wide range of industries, both B2B and B2C. At PRINT & DIGITAL CONVENTION, NFC21 will present its corporate approach and the added value of NFCfor the industry and its customers.

---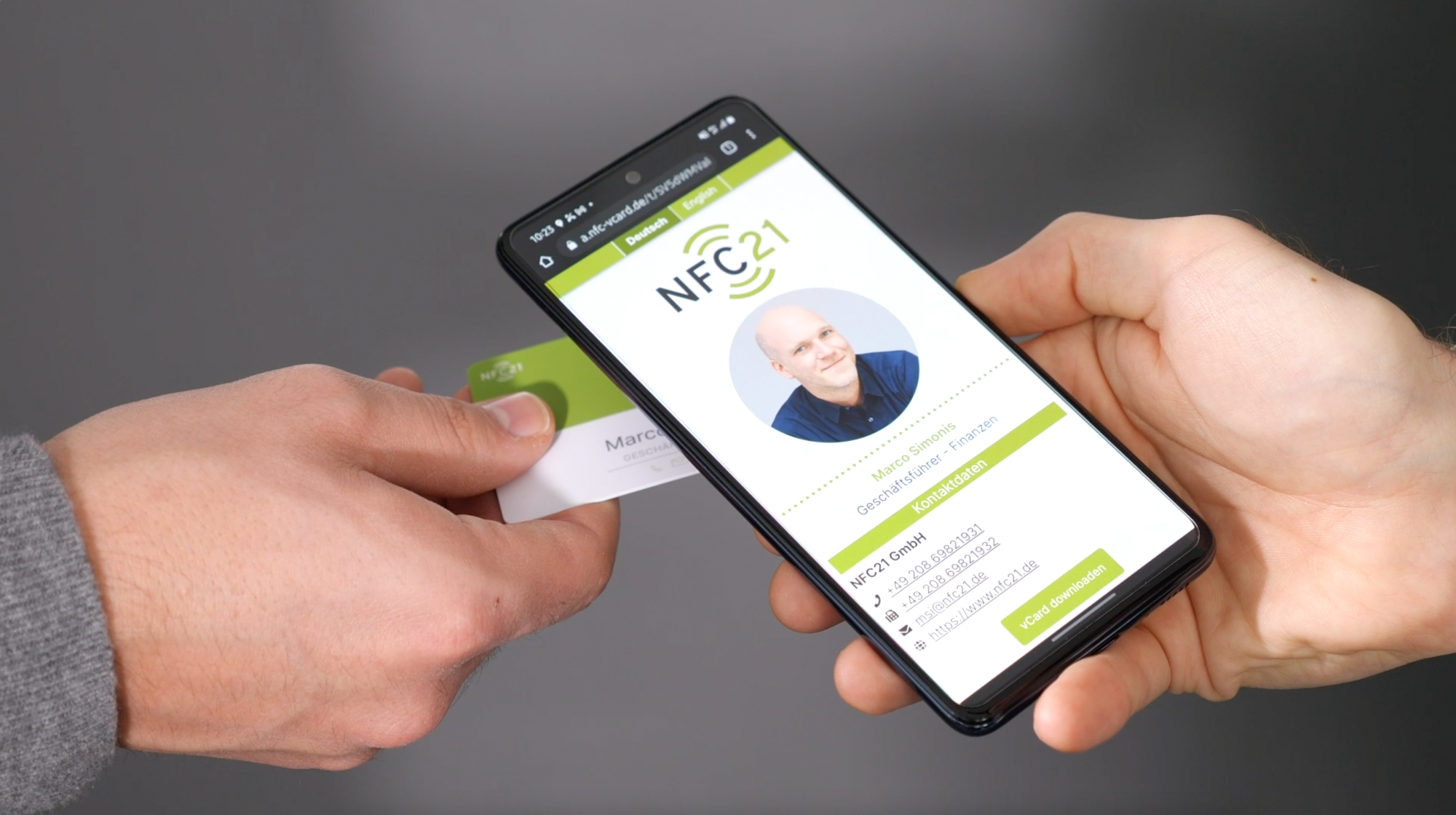 Example: NFC-vCard
The NFC-vCard has been part of the NFC21 range for 10 years. It is more than just a digital alternative to the classic business card, because by scanning it, you can access comprehensive and up-to-date data at any time. It is also efficient and there are no limits to the storage capacity and design.
---
"As a media bridge between print and digital, NFC is ideally suited to enhance the product experience and offer customers added value," says Werner Gaulke, Technical Managing Director of NFC21, who will give an insight into how (print) products can be enhanced with NFC experiences in his keynote speech on the second day of the event. "I won't focus on the technical features in my presentation, but will use examples to try to show ways in which attractive customer experiences can be created with the help of NFC technology.
---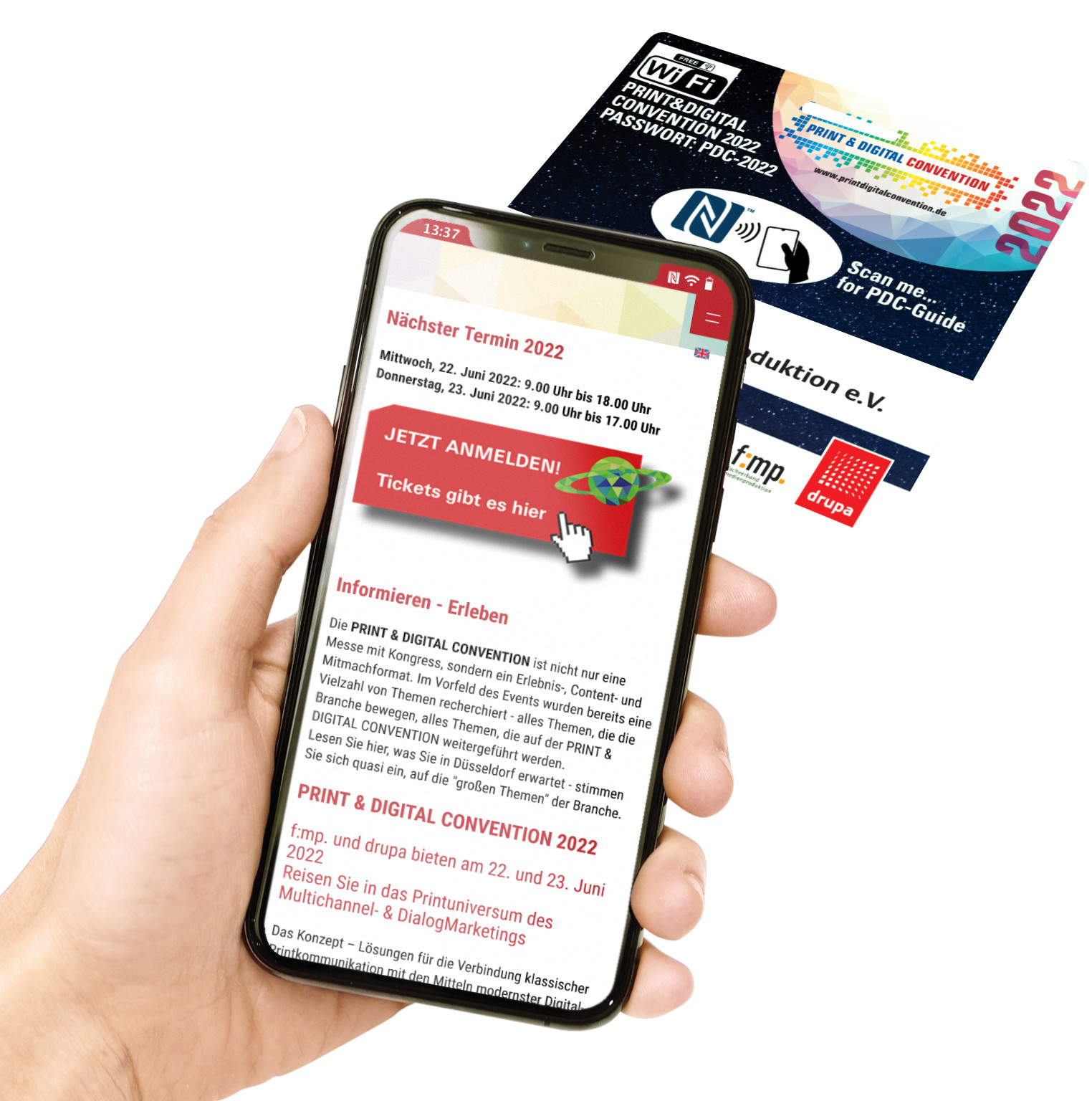 Example: "Multifunctional badge" highlight project
NFC21 and Medienhaus Gather, together with the Fachverband Medienproduktion e.V. (f:mp), are pleased to present the multifunctional "All-in-One" badge, which all participants will receive at the exhibition's check-in. The data stored on the integrated NFC chip supplements the classic printed information. It contains all the important information about the fair, which can be called up with a simple scan. Visitors will also be able to connect to the WLAN at the check-in with a simple NFC scan.
---
The NFC21 team will be at stand A21 and is looking forward to interesting conversations, new contacts and a creative and exciting exchange.

---
About NFC21 GmbH
NFC21 offers NFC-based solutions from a single source and, thanks to this holistic corporate approach, is one of the leading suppliers of NFC products and software solutions. Both areas go hand in hand in order to be able to accompany projects in every phase.
The online shop offers an extensive range of NFC products with high availability and fast delivery times, including individually manufactured products, supplemented by personal advice on finding a product. Complementarily, NFC21 develops and operates web-based software solutions that use NFC to implement intelligent value-added services.
Further information on NFC Smart products and services is available at www.nfc21.de/en and www.nfc-tag-shop.de/en.
Press releases
16.05.2023
NFC21 GmbH (NFC21), which specialises in NFC-based solutions, is once again taking part as an exhibitor at PRINT & DIGITAL CONVENTION on 15 and…
06.09.2022
Digital, sustainable and multifunctional: medl GmbH, Mülheim's local public utility, simplifies its employees' everyday work with an NFC card from Mü…
16.05.2022
NFC21 GmbH (NFC21), which specialises in NFC-based solutions, will be participating for the first time as an exhibitor at PRINT & DIGITAL CONVENT…